HAVING TROUBLE FINDING the Right Financial Planner?
KNOW WHAT TO ASK AND MAKE AN INFORMED DECISION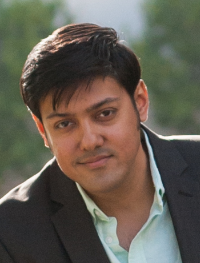 Welcome to Qubera Wealth
Hello, I'm Nirav, and welcome to a financial management firm that puts you first.
I'm part of a team of fiduciary financial planners working on a fee-only basis. Which means you'll spend less in the long term and fuel your investments with time tested strategies.
We dive deep into investment options and research the best path to your secure financial future.
At Qubera, we relentlessly pursue your best future so you can confidently pursue your dreams.
LEARN MORE ABOUT OUR ADVISORS
When Things are Worse than You Imagined
Financial advice is everywhere. Some of it's good, most of it's not.
Times and dreams change. Without continual course adjustments you might veer off in unintended direction and could miss your goal.
We've All Been There
My father unexpectedly died 10 years ago. In fact, hours before a planned visit specifically to make retirement preparations with my parents, my uncle called with the shocking news that my dad was gone.
Instead jumping off the plane into the arms of my dear parents, I landed in a financial crisis. Our time of grief was overshadowed by stress and struggle.
It wasn't that my father didn't plan. It was that he never made course adjustments or streamlined his efforts. In the ensuing weeks I uncovered:
An inconsequential life insurance policy
An ill advised tax plan
A potpourri of stocks — ranging from blue chips down to lost causes
Nearly a dozen bank accounts, many with nominal balances
Unfortunately, I never found a will, sending all my parent's funds to probate.
Wealth management bankers started hounding my mother recommending "free" advice while selling funds with high annual fees. It took months to sort, but luckily, my parent's assets were enough to provide well for my mother.
It could have been easier.
Avoiding Crisis at a Time of Tragedy
I never want my family to relive the stress — though I know we're not alone in this experience. Since my father's passing, more than one friend has shared a similar tale.
No one's family needs to struggle. When you have a substantial income and a high savings rate — you don't need lottery-like stocks. Just a systematic savings plan to grow your wealth.
Good, reliable financial advice is out there if you know where to look.
Competency without Conflict
The key to a solid financial plan is finding a planner committed to your best interest. That's why Qubera advisors sign a fiduciary pledge — we never let commissions, hidden fees or other personal gains overtake the financial security and well-being of our clients.
Your Qubera fiduciary advisor will relentlessly pursue time-tested investment strategies, stay educated, dive deep into the research.
Your fiduciary tells you how much insurance you need and for how long. An insurance salesman on the other hand will never tell you it's time to call it quits.
Your fiduciary looks for long term investments that best suit your needs. Large firms are incentivized to meet quotas and build up large client-loads.
It's our passion and our promise to provide the level of service and education we'd give our own family.
Are you ready to plan for your future? Are you ready to map the path to your dream retirement?
We are ready to help you.